To prepare to be the best, the demand and preferences of the crowd are the constant challenges faced by any musician. Practicing to be better every day, and staying relevant to new trends and genres are a must for all musicians. In the end, when you hear the crowd cheering and grooving to your beat, it is the ultimate satisfaction. 
What if we tell you some apps will help you meet audience expectations and also help you perform and practice better? Sounds interesting, doesn't it? We present you with the 5 top-rated music apps, which will change the way you engage with your audience. 
Boost Your Productivity With The Best App for Musicians
Your crowd has different tastes in music, similarly, your choice of music apps will be different. We have listed out the top 5 top-rated music apps. 
Here is the list of apps that will help you to soak your audience in the essence of your talent:
AuDimix: Create joy and fervor with unique musical creation
One of the best music practice apps to perform and teach is AuDimix. You can remove the vocals of any song and add your mashup or voice to it. Isolate a stem and practice your instrument. You can also check your creation with the Live Preview feature of this App.
It is a full-fledged studio in your palms. If you are a musician or a DJ who is about to give a live performance, you can instantly use AuDimix to extract vocals or stems and present your style to your audience. 
App availability: Windows 10 and above
Songwriter's Pad: Songwriting made easy
Do you want to write the best song but struggle to put the right words to engage your audience? Well, your solution to this problem is Songwriter's Pad. This app will help you with Songwriting and boost your confidence.
Songwriter's Pad is one of the best music composition apps for singers and songwriters to explore their creativity. The app generates ideas, suggests rhyming words, provides chord notation and lets you record ideas, and import instruments and beats that will help you perform. 
App availability: iPhone, iPad, Android, Mac and Windows 
Moises: Experiment with your music creation
In the list of top-rated music apps, we can never forget Moises. You can extract vocals, and isolate stems in this app. Moises is best for new musicians who want to carefully understand music creation. 
Music is usually a mixture of several instrumental elements. With Moises, you can separate the backing instruments and pay attention to the instrument you want to learn by isolating others. 
App availability: iPhone, iPad, Mac, Android, Windows
GarageBand: Bring your musical ideas to life
GarageBand is one of the best music tools to produce, record and create high-quality music on Mac and iPhone. Its best feature is that even if you don't have an instrument, the app has virtual instruments. You can also connect the app with a MIDI keyboard. 
Garage Band can help you turn your creative ideas into reality. Sound recording and practicing just got better and easier with GarageBand.
App availability: iPhone, IPad, Mac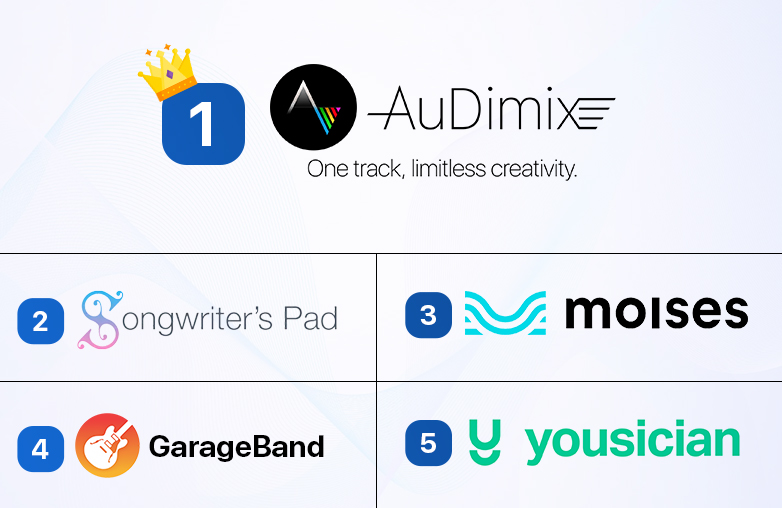 Yousician
To be a perfectionist in Guitar, Singing, Bass, Ukulele and Piano, you need Yousician. It offers real-time feedback on your instrument play. It is the best app for practice sessions and to assist and guide musicians in the right direction.
Whether you want to learn a new instrument or refine your skills, Yousician is the app for you.
App availability: Android, iOS
Conclusion
You can find many top-rated music apps all around the web, but you need to pick the best that suits your requirements. Our suggestion? Apps that help you practice and develop your skills, are the best apps for any musician. 
Analyze all five apps, see which app helps you produce professional quality sound and upgrade your skills. From stem separation to songwriting, there are apps to help you be the best. Now, it's upon you to choose the best app that can help you be the best musician for your audience. Which of these apps is best for you?