Do you love listening to music? Plugging in earphones or headphones, and nodding your head to the beat of the music is so relaxing and energizing at the same time. However, over the years; the way people enjoy music on their phones has changed. Are you an Android user looking for ways to improve your listening experience? Well, then this blog is for you.
We will help you take your listening experience to the next level by introducing you to the best music player apps. Here's the 5 best music player apps for Android devices which every music lover must have:
Boom: A perfect music player app for all audiophiles
Whether we feel ecstatic, sad or loved, we all enjoy listening to music. One of the best apps that takes your music experience to the next level is the Boom app. Can you believe you can enjoy 3D surround sound on your Android device? Yes, you can. It is possible if you have Boom.
You can level up your phone's volume and enjoy a great sound that will mesmerize your senses. It has an equalizer where you can adjust the sound output. Boom also has a number of handcrafted equalizer presets for different genres of music. And if you have your music collection on Dropbox and Google Drive, you can play it with Boom effects. All the more interesting, play Tidal music with Booming effects. For the unversed, Tidal is one of the best music streaming apps for Android. Additionally, you can take the benefit of system-wide audio FX. You can apply loudness effects, virtualiser and custom-tuned EQ presets system-wide. Along with being a music player app, you can enjoy podcasts and internet radio channels of about 20,000 countries. There is no reason to say no to Boom if you are an audiophile. 
Download Link: https://play.google.com/store/apps/details?id=com.globaldelight.boom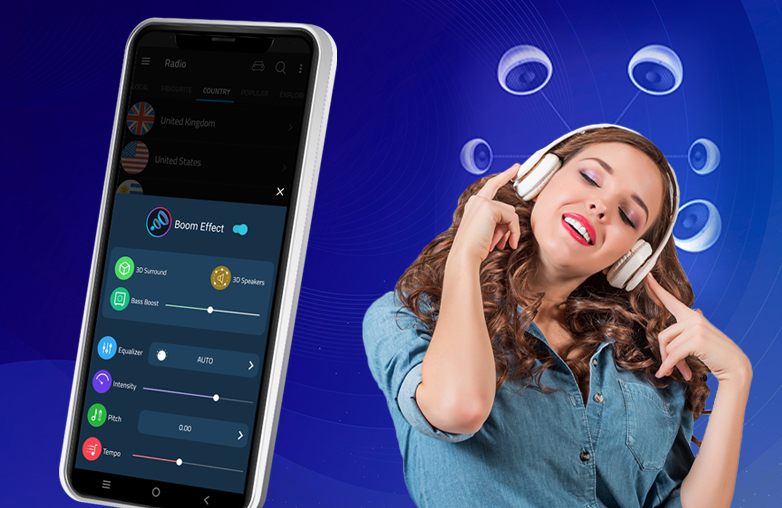 GoneMad: Create a personalized musical experience
We all like our music to be personalized according to our choice. And GoneMad is perfect to relish music your way. With its unbeatable features, you can be sure that your music experience will be amazing. It has 2 to 10-band equalizers to make your sound perfect. Also, you get audio-pitch correction, and you can control the left and right sound output of your Android device. 
GoneMad is one of the best Android music players apps with 16 EQ-presets. So, with this app, you can fine-tune any song and make it unbelievable with its features. And if you want to prevent distortion, there's also a DSP limiter for your best use. 
Download Link: https://play.google.com/store/apps/details?id=gonemad.gmmp
MediaMonkey: Excellent organizational features
While other music player apps for Android devices may have features to enhance your musical experience, if you are in search of an app to organize your music, MediaMonkey is the one. You can arrange podcasts, videos, music, and you can navigate by genre, artist and album.
You can even sync music files from your computer to your phone with MediaMonkey. It has a simple UI and a basic 5-band equalizer. So, to relish the best organizer along with basic fine-tuning of your music, download MediaMonkey. 
Download Link:https://play.google.com/store/apps/details?id=com.ventismedia.android.mediamonkey
Oto Music: More than just an ordinary music player app
Another great music player for smartphones is Oto Music. Why this app is great is because it has surround sound and bass boost options. While you are in an ecstatic mood to rush to the gym, just turn on the surround sound and increase the bass and give your senses a boost to help you burn calories.
Additionally, it has a lyrics editor, where you can download lyrics. And it has an equalizer to fine-tune your music. Moreover, you can set a sleep timer. 
Download Link: https://play.google.com/store/apps/details?id=com.piyush.music&pli=1
Musicolet: One app with innumerable features
Simple design with powerful features is what Musicolet is all about. It's said to be a lightweight UI app. You can understand its impeccable features once you start using the app.
It has many such features which makes it unique. One of its features is that without any ads, you can enjoy listening to music. There is an equalizer, and you do not need an internet connection to play music on Musicolet. Other features are sleep timer, renaming folders, saving notes and bookmarks, lock screen, folder browsing, tag editor and more. 
Download Link: https://play.google.com/store/apps/details?id=in.krosbits.musicolet
Bottom Line
Try out any of these 5 best music player apps for Android devices, and you will see the difference in the way you enjoy sound. From Boom to Musicolet, we've got the list covered for you. Now, it's upon you to decide to choose and improve the sound on your Android devices.