Your iPhone may be the coolest device you have. Different colors to match your personality, varied features to meet your preferences. And not to forget, the best photographs that can do justice to your flamboyant personality. 
With all these exciting features on your iOS device; do you think there is a need to boost the music system? Well, we agree too. A music player app for your iPhone can change the way you enjoy music. Your inbuilt speakers may not always have the capacity to offer you the best listening experience. Below is the list of the top 5 best iPhone music player apps that every music lover must own.
Boom: Best features and intuitive interface
The only best music player app for iOS devices that is perfect for all music enthusiasts is Boom. Its smooth interface and unbelievable features make it a favorite choice among people all around the world. With Boom, you can feel your music coming to life. The experience is something that your ears have never felt before.
One of its rousing features is its immersive 3D surround sound. Yes, you heard that right, you can enjoy music with 3D surround right on your iPhone, with absolutely any headphones of your choice. Additionally, there are interesting features such as bass boost, audio effects, equalizer, transcendence, carplay mode and many more features. Moreover, you can stream Tidal with Boom effects and relish more than 20,000 radio channels and podcasts of different countries with Boom.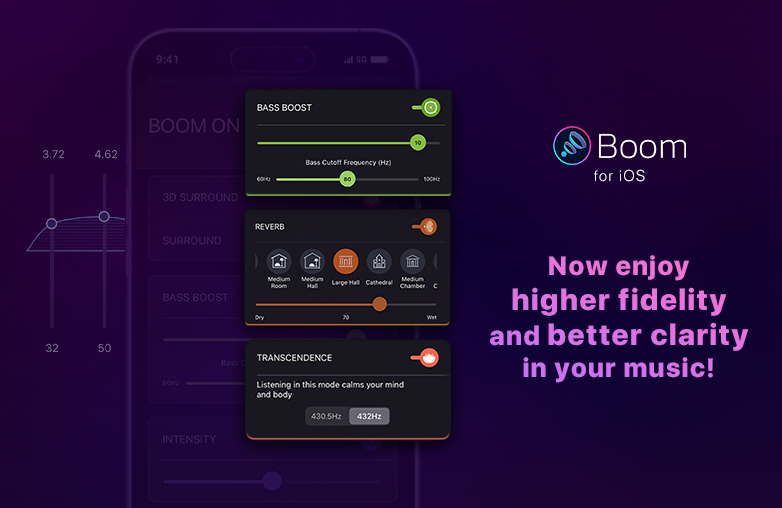 Flacbox: Professional quality equalizer
Want to tune your music with the best equalizer? Flacbox will serve your needs. Other than offering the best equalizer, You can sync your music files with Flacbox and enjoy a good time hearing the exceptional sound. Also, it supports SD card readers, so you can connect with iXpand and SanDisk.
Other features you can find in Flacbox are sleep timer, background mode, AirPlay and more. Put on your headphones and get ready to groove to the amazing sound by Flacbox
VOX: Manage your music collection conveniently
In the list of iOS music app recommendations, we cannot miss VOX. Create playlists, organize music by artists, albums, or genres with the VOX app. You can enjoy high-resolution sound with the Hi-Res audio formats. Also, with the VOX app you can enjoy online podcasts and radio. 
Not only for music but if you have a great interest in gaining knowledge from podcasts with great sound, the VOX app can be a great companion. Want to know more? There is also an equalizer within the app to fine-tune the audio output of your iPhone. 
CS Music Player: Sound that will leave you awestruck
Manage your complete music album with the CS app for iOS devices. You can reorder and shuffle songs just by swiping. It has a very simple-to-use interface with striking features. 
It is one of the best music streaming apps for iOS devices. This app is for people who enjoy high-quality music. You can also access your iTunes and iCloud library with the CS Music Player app. 
Foobar: Turn mono audio to stereo
The Foobar app for iOS devices allows any mono audio to be heard in stereo. This is a great music player app for your iPhone that's simple, yet powerful. It supports different file formats such as WAV, MP3, FLAC and others.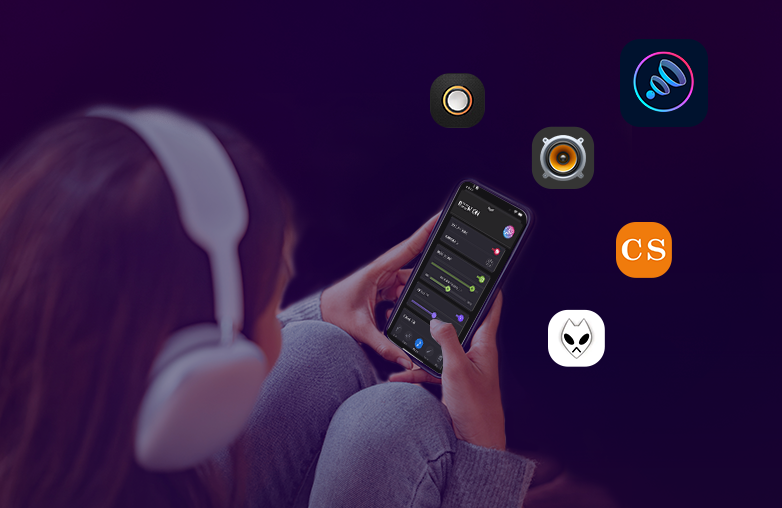 Bottom Line
The aforementioned 5 best music player apps for iOS devices can give you the best music experience no matter what your preferences are. Select the one that ticks all your boxes and level up your iPhone music experience today!