Technology is constantly evolving and is trying to make our lives better and entertaining. While music is a part of entertainment in our daily lives, a day without music is just like a body without a soul. We constantly look for ways to amp up our listening experience. And what better can be than a combination of earbuds and a music player app with 3D surround sound that offers an immersive experience?
To make you enjoy music at its best, Global Delight, the developers of Boom, and WooDoo ventures (QCY India) have collaborated. Boom is a music player app for iOS and Android devices, while QCY is known for its best headphones and earbuds. With this collaboration, if you purchase QCY hardware, you can avail an exclusive discount and enjoy great sound on your iOS and Android devices without burning a hole in your pocket.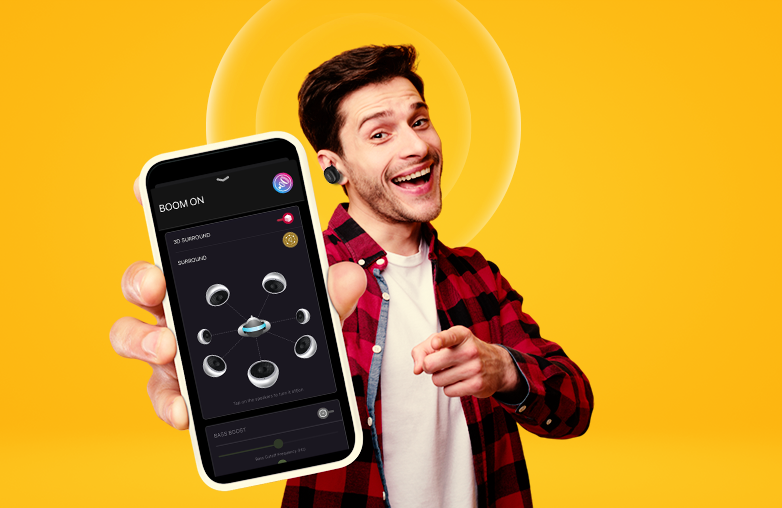 Presenting  you the exclusive discount you've been waiting for:
Users of QCY headphones can avail an exclusive discount on Boom for iOS and Android. This is your chance to unlock the full potential of your audio experience while saving big on premium products. 
Boom is a popular product which has received immense love worldwide. One of its top-tier features is its 3D surround sound. While you turn on the 3D surround sound on the Boom app, you will feel as if you are a part of the action. So, to get the realistic feel of any music on headphones, 3D surround sound is a must. It helps you to feel the true potential of music on your iPhone and Android devices while using your headphones. 
Want to elevate your listening experience at a minimal price? Then, all you need to do is download Boom on your iPhone or Android devices. 
3D surround sound is one of the best features among many other features of the Boom app. This top-rated music player app has more than 20,000 radio stations and podcasts from different countries worldwide. Moreover, if you have a Tidal music subscription, you can play Tidal music with Boom effects. Similarly, you can play songs saved on Google Drive with Boom effects that will sweep you off your feet. 
Boom is also a bass booster and equalizer app that works wonderfully on iOS and Android devices. With equalizer presets you can enjoy a personalized music experience on your phone. Just tap on the genre you like, and you are all set to enjoy a musical experience of your preference. 
You can also control the bass and treble of the music with an intensity slider. There's also Apple CarPlay support to accompany you with Boom effects in your car. Moreover, other recently introduced features are tempo effects, reverb effects, transcendence mode and pitch effects which will further elevate your musical experience on your iPhone or Android devices. 
Bottom Line
WooDoo Ventures and Global Delight, the developers of Boom both hold a renowned name in the global market. WooDoo Ventures (QCY India) has been in the news for its high-quality earbuds that deliver exceptional sound quality and comfort. The Boom app is known to elevate your musical experience in a whole new way. 
It's time that you experience extraordinary sound on your phone with Boom while pairing it up with QCY earbuds. Don't miss this chance to treat yourself to unbeatable 3D surround sound on your phone. Take advantage of this exclusive offer, that's available only for a limited period.