Capto, the powerful screen capture app can now be experienced absolutely free for 15 days. Global Delight, the makers of the Capto are thrilled to announce the addition of a 15-day all access free trial on the Mac App Store.
Now with the free trial, you can explore the features of the app completely, and then make a purchase decision. In this free trial, you can experience the premium features of this powerful screen capture app without any limitations. 
Moreover, when you opt for the trial period, you need not enter your card or payment details. The makers of Capto believe in giving the best experience to its users before making a purchase decision. 
In the current competitive world, creating powerful presentations and delivering your content most interactively can help you stay ahead of your competition. This is where Capto can be the ultimate companion to help you reach your goals. 
Capto lets you record the screen at 60 FPS. You will get to record your screen with full HD quality, and this will be useful for presenting tutorial videos, important presentations, and demonstrations. Also, you can record a particular portion of your screen and set a timer to begin recording the screen after a predetermined time. 
Make your tutorials and presentations effective with Capto
Capto also provides options to resize and reposition the recorded video according to your requirements. It has features to make your editing process easier, you can trim, crop, cut and join videos with ease. Want to know more? You can even add annotations to your videos to make your tutorials and presentations more effective. 
Not only screen recording, but Capto is also an effective image editor app. You can capture the screen or a portion of your screen and excellently edit images, add annotations, blur unwanted items in the image and do more with Capto. 
No doubt, Capto is a powerful screen recording and screen capture app. But have you ever thought it would be great if a screen recording app could organize all your edited videos and photos? Well, Capto has this feature. You can easily create folders within the app and label them accordingly.
Capto, the best screen capture app lets you record yourself while you record your screen
Want to record yourself while recording your screen? This is possible when you have Capto for macOS. As you record your screen for tutorial videos or other purposes, you can turn on the front camera and record yourself. 
Another important aspect of Capto is that you can easily share your creations on different online platforms. Take a screenshot, record your screen and share it on YouTube, Facebook, Dropbox and more. 
Are you new to screen recording and screen capture apps? 
You need not bother about complexity when you are using Capto. It has an easy-to-use interface, and its effective features are designed in a way that will help anyone use this app easily. 
Capto has received positive reviews from people around the globe. Now, with the free trial on the Mac App Store, users can explore its complete features before purchasing the app.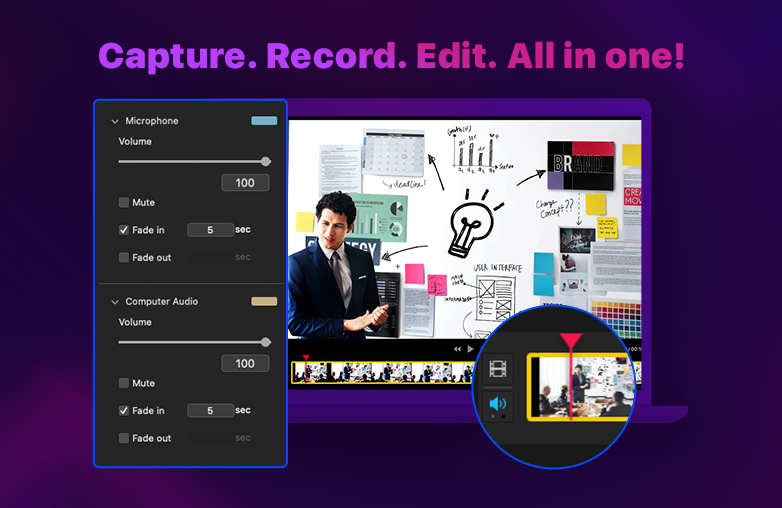 Global Delight, the makers of Capto have always been committed to providing exceptional customer delight. With this new model, Global Delight ensures customers are delighted with their product before making a purchase decision.
Whether you're looking to create compelling presentations, educational content, or simply to enhance your macOS experience, Capto is the app you have been looking for. Start your trial today on the Mac App Store with Capto and unlock your Mac's full potential of screen capture and editing capabilities.
Capto is also fully compatible with macOS Sonoma. Explore new possibilities with Capto today!