Have you recently started creating podcasts for your audience? Well, you may be curious to know how to engage your audience better. Chances are, you've been hosting a podcast for a while now but aren't seeing the results that you want to.
There could be various reasons for not being able to reach the right levels of engagement with your audience. Once you know the right tips to engage your audience; you can have the most loyal fan base. The type of topic you choose, the confidence you have in your voice, everything matters when you're hosting a podcast. Here are some useful tips to boost podcast audience engagement. Here we go!
Use the best voice recorder app to reach your audience with confidence and clarity
No matter how good your content is, if you lack clarity, you will lose your audience. Thus, before you decide to start a podcast, it's important to do thorough research on which is the best audio recorder app. Choose an app that lets you edit, cut, and modify your recordings. 
If you are an iPhone user, we recommend AudiOn. To get professional quality recordings this is the best app you can rely upon. You can also add background music, create episodes, easily share your recordings and much more with AudiOn.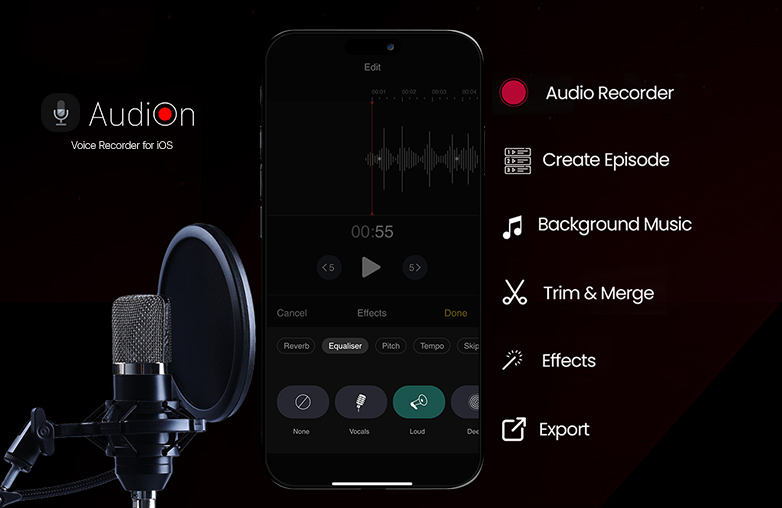 Research your audience and choose a niche
Not everyone is your audience, researching about your audience and creating audience engagement is the key to making your podcast successful. So, you should stop focusing on creating an episode for everyone, and instead focus on a particular target audience. Select your niche and talk about that topic. Then, learn about the interests of your audience, the content they like to hear, and the topics they are researching about or looking for.
You can also take the help of online groups and forums to learn about the topics your target audience might be interested in. Or you could also ask your existing followers what they're looking for. This will help you create a loyal fanbase and also increase the chances of your followers sharing your content. 
Once you've decided on the content you're going to create, ask yourself, is it relevant to the niche? Will this content attract new followers? Will it add value to their lives? Why would they put in time to listen to my podcast? When your vision is clear the distance to achieving your goals is much, much shorter.
Forge a deep connection by inviting guests
One of the best podcast interaction strategies is to invite guests. No doubt, you are excellent at conducting podcasts but your audience might love to hear from someone new, or someone with new ideas, or new thoughts, or even different views from yours.
Your audience will have a whirlpool of visions and dreams that need expert guidance. You can invite relevant people of a similar niche and take their interviews or simply sit down with them for a heart to heart. Also, remember to choose the right guests, research about them, and prepare thoughtful questions to ask them. A well-known personality can really boost the engagement of your podcast. Moreover, you can ask them to promote your podcast on their channel or social media. Also, you can increase the visibility of your podcast by sharing it on your social media. 
Create a strong social strategy
Your social media strategy can be the ultimate weapon to showcase your talent and to bag yourself the popularity you deserve. It isn't just about promoting your podcast on social media, but also about creating an effective strategy to drive the desired results. 
Know your audience and choose the right platform to promote your podcast. Common platforms include Instagram, Twitter, LinkedIn, YouTube, Facebook and TikTok. Focus your efforts on key platforms where your audience is spending the maximum time. Share highlights or teaser clips of your upcoming podcast episode. Try creating curiosity that will compel your audience to go watch your episode. Also, posting behind-the-scenes content could be effective. 
Add a call to action and reply to comments
Your podcast is incomplete without an effective call to action (CTA). When you add a call to action that is effective, it will compel your audience to reply, comment and take action. This is a successful strategy to create engagement with your audience. 
You can use CTA's, such as " Leave a comment", "share with your friend", or more. Personalized CTAs are more effective because they relate well with your audience.
Additionally, try to respond to comments as quickly as possible. You can also mention and read the best comment in your next podcast with the commenter's name or social handle. This will build a dedicated and loyal community, and will also increase the chances of your podcast getting shared. 
Bottom Line
Now that you know about the tips to boost podcast audience engagement with your podcast, implement them and see the changes. Know your audience well, and watch the podcast game turn in your favor.