Boom 3D for macOS, a product by Global Delight is thrilled to introduce a 15-day trial period to its new users on the Mac App Store. The trial period will help you explore the complete features of Boom 3D before committing to a purchase. 
An immersive audio experience is a must to relish the true joy of sound, and Boom 3D for Mac with its extraordinary features will redefine the way you enjoy sound. 
Don't you feel like testing a product before buying it? Keeping this in mind, and to offer you a seamless experience, the Boom 3D team has introduced a 15-day trial period. An exceptional experience with great 3D surround sound is on its way to you!
Boom 3D has some of the best features found in any audio enhancement app, all of which you can experience during your trial. Some of its exclusive features are a fully customizable 31-band EQ, volume booster, immersive audio, and more. Boom 3D for Mac works system-wide, so anything that you watch, listen to, or play will have its audio enhanced. Avail the free trail and enjoy its extraordinary features.
Boom 3D has always been spoken about for the seamless audio experience it offers. Moreover, it has won several accolades which makes it the best volume booster app to try for macOS. 
Explore the full potential of the app without any limitations during the trial. Whether you're an  audiophile, or someone who enjoys some extra oomph in your sound, Boom 3D has something in store for everyone. The app has been featured in various categories on the Mac App Store and has over 5 million downloads worldwide!
Another thing that's worth mentioning – You do not need to provide ANY payment details to avail the free trial. Yup, there's no commitment to make a purchase once your trial ends. Hearing is believing, and we'd like you to experience what Boom 3D has to offer before you take the plunge.
As you explore Boom 3D features, you will dive into a realm of lifelike sound, which was not previously possible on headphones! One of its top-tier features is its 3D surround sound that makes you feel as if you are part of the action. The 3D surround sound creates a unique sonic experience that is not possible with traditional stereo audio on headphones, where the sound is focused into your ears, and not having, or feeling a sense of space.
Moreover, there are different audio effects to take your listening experience to the next level. As you explore individual audio effects, and their combined effects, you will discover a whole new world of immersive and powerful sound.
For an immersive and lifelike sound experience on headphones, without burning a hole in your pocket, all you need is Boom 3D. Boom 3D is not only about enjoying good music but also enhancing your movie and gameplay experience.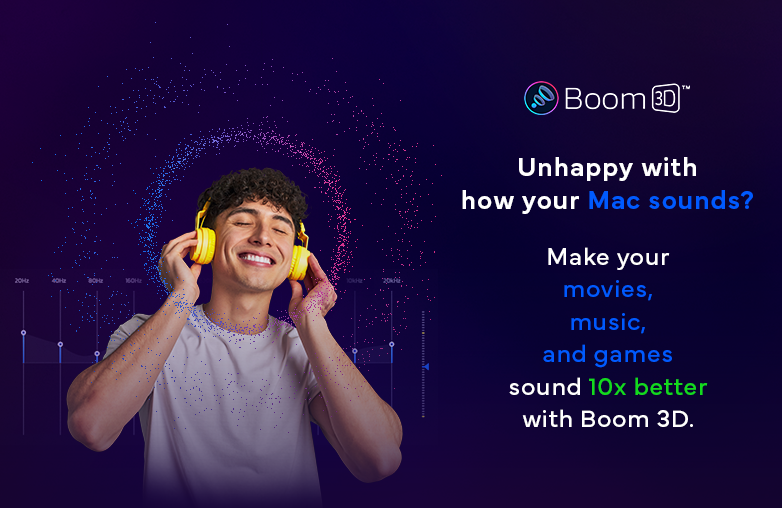 So if you're tired of mediocre and boring sound while enjoying movies or playing games, it's time to get a feel of Boom 3D. Say goodbye to basic audio and hello to immersive sound with Boom 3D. Enjoy every minute details of sound with clarity and never miss any detail in your favorite music, movie or shows. Don't let poor audio spoil the fun of your entertainment. Get the Boom 3D trial on the Mac App Store and enjoy exceptional sound on your macOS device. Give the best treat to your ears!