Everyone of us, deep in our hearts, at least once fancied being a social media influencer. Right? Clicking good photos, appealing reels, having a fan base, receiving gifts, and most importantly, brand collaborations. All of these things together make social media influencers' jobs exciting. 
However, none of this comes easy. There's a lot of hard work needed to beat the odds. Your photos and editing skills need to be great, plus your way of approaching everything counts to make you a successful social media influencer. Keeping all this in mind, we have curated the 5 best content creation apps for social media influencers. No matter whether you are a beginner, or a seasoned pro, these apps are really going to help.. Ready to explore? Here we go:
To create your custom music: AuDimix
AuDimix is the app to customize your audio for social media. It is the best vocal remover app if you want to add your own voice to any backing music and it is the best stem separator app, for those who want to separate stems such as guitar, piano, and backing instruments to create instrumental versions of any song.
Musicians and DJs get ready to be blown by the unrivaled greatness of this app to showcase your talent on social media. Import any song and extract stems and vocals whilst you can also change the intensity of the volume in each stem. The app is not limited to musicians, since it's so easy to use! Audimix is also a perfect app for influencers and video creators to add custom music for a dazzling performance or to review a product. 
Availability: Windows devices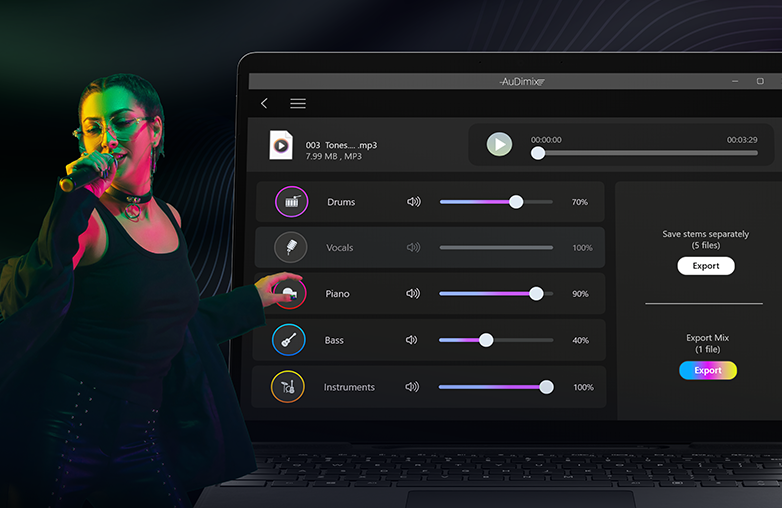 Edit your photos flawlessly: Snapseed
You don't need great photo editing skills to use Snapseed. This photo-editing application is for everyone who wants to add charm to their pictures. It has a plethora of features to impress the demanding crowd on social media. Snapseed is one of the best photo editing apps that you can trust blindly. 
From brightness, saturation and contrast adjustment to features such as white balance, healing, and brush to correct flaws, its creative filters will make your pictures stand out in the sea of content. The interesting part is; Snapseed is a free app for social media influencers to impress their followers and target audiences without any cost.
Availability: iOS and Android
Find the right hashtags: Socialist
In the list of app recommendations for influencers, we simply cannot miss Socialist. Socialist plays the role of a hero to help you reach your target audience without any effort. The right hashtag can help you gain more followers, and increase impressions, reach, and likes on your photos and videos. Why spend your precious time searching for hashtags when you have the Socialist app to do your work?
Socialist is one of the must-have content creation apps. Because hashtags and captions are a part of social media and can't be ignored at any cost. Make a strong presence online with Socialist without spending a penny.
Availability: Android
Best video editing app: Vizmato
One of the popular video editing apps for all social media influencers is Vizmato. With its easy-to-use interface, you can edit your videos within minutes. Moreover, you can edit your videos with HD quality. What else do you ask for? While in social media, the quality of your videos plays a crucial role in reaching your audience, and Vizmato is the one-stop solution for HD-quality videos. 
Another feature of Vizmato is Audio FX which allows you to change your voice like a baby, ghost and more. You can also find more than 30 free Viztunes, so say goodbye to copyright problems. With all these features, Vizmato is definitely one of the best content creation apps to edit your videos perfectly. 
Availability: iOS, Android
Create stunning visuals: Canva
Canva is a user-friendly design app to create engaging and visually appealing graphics. And you don't need any prior design experience to use this app. With its wide range of templates, fonts, and other elements, Canva makes it effortless for influencers to create thumbnails, story posts and other graphics. 
Influencers can create promotional posts with the help of Canva. And trust us, your story post can get much more creative if you install this app.
Availability: Android, iOS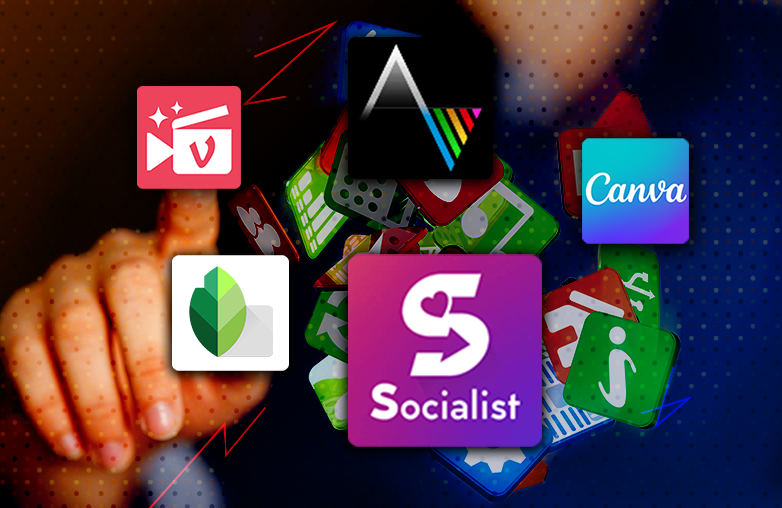 Bottom Line
So now that you know about the 5 best content creation apps. Why wait? Download these apps and take your social media game to another level. 
These apps can contribute to making your engagement and productivity better. Make it a part of your device today because we are sure you are an early bird to catch the worm first.