Role-playing games, strategy games, thrilling adventures, Multiplayer Online Battle Arena, and first-person shooters, there is no dearth of online games to entertain you. Each genre offers its own unique gameplay experience, allowing you to select the one that suits your preferences and indulge in  an immersive experience.
Gaming is not just about playing the game to pass the time, it's about feeling your victory. Additionally, your gaming experience should make you dive into the virtual world and give you a realistic feel. In this blog, we will discuss 5 tips to get an immersive experience while gaming on a laptop (Windows and Mac). 
Tips to improve your gaming experience on Laptop
Be it Mac or Windows, there are several ways to improve your laptop's gaming experience. With certain tips and tricks, you can change the way you play forever.
With our tips, you can get into an immersive experience while gaming on a laptop without burning a hole in your pocket. Check the below section to get all the tips to make your gaming experience better.
Download an audio enhancement app
One of the first and best tips for enhancing gaming experience is to download an audio enhancer and volume booster app. As per user reviews and global standards, Boom 3D is the best audio enhancer you can use on Windows and macOS for a realistic gaming experience.
The 3D surround sound of the app will make you feel as if you are part of the action. And different audio effects will improve immersion, boost the audio accuracy, offer a wider soundstage, and more. Additionally, there is a pitch effect for voice modulation, and you can also adjust the pitch for better dialogue delivery. And if you are playing games with explosive sounds, impactful movements and gunshots, you can adjust the bass to enhance the low-frequency sound and indulge in an immersive experience. 
Ensure optimal performance by preventing heat throttling
One of the common questions by gamers is how to improve gaming performance on a laptop. And one of the ways you can improve your gaming performance is by boosting the fan speed of your laptop. 
The heating of your laptop system is one of the biggest hurdles in your gaming experience. Whilst playing games on a laptop, the system can generate significant heat, leading to thermal throttling. However, new-age laptops are designed with cooling technologies. Thermal throttling occurs when the CPU or GPU temperature reaches a certain level, causing the system to reduce performance. To avoid heat throttling and maintain optimal performance, you can increase the speed of your laptop fans. Windowsreport has clearly mentioned 8 ways to fix latop's overheating issues.
Invest in good headphones and surround sound
What we mean by good headphones is not expensive headphones, but the one that is suitable to meet your needs. You can find an array of headphones in the market that is good enough and doesn't break the bank. 
Usually, people invest in surround sound systems and pair them with headphones for an immersive experience while gaming on a laptop. However, as mentioned before, if you download Boom 3D, you get to enjoy 3D surround sound along with other features. So why invest in surround sound hardware separately? Moreover, you can have any type of headphones irrespective of their cost to enjoy the true realistic feel of the game with Boom 3D. 
Close background processes for a better gaming experience
Be it music, movies, or any other important document you are working on, close it immediately while playing games. The activeness of background processes interrupts your gaming performance. 
So, the answer to the question, how to improve laptop's gaming performance is by turning off background processes. Furthermore, when you close the background processes it frees up system resources, which allows your laptop to allot more processing power to the game. 
Clear disk space for a smooth gaming performance
To enjoy an immersive game it's important to have sufficient free disk space. When your system storage is full, your laptop will have a slower load time and turn less responsive. This is not what you want when you are in an interesting game-play mode, right?
To remove such distractions, delete unnecessary files on your system, such as images, videos and photos. You can use a disk cleanup tool, to easily delete large and duplicate files which are unnecessary.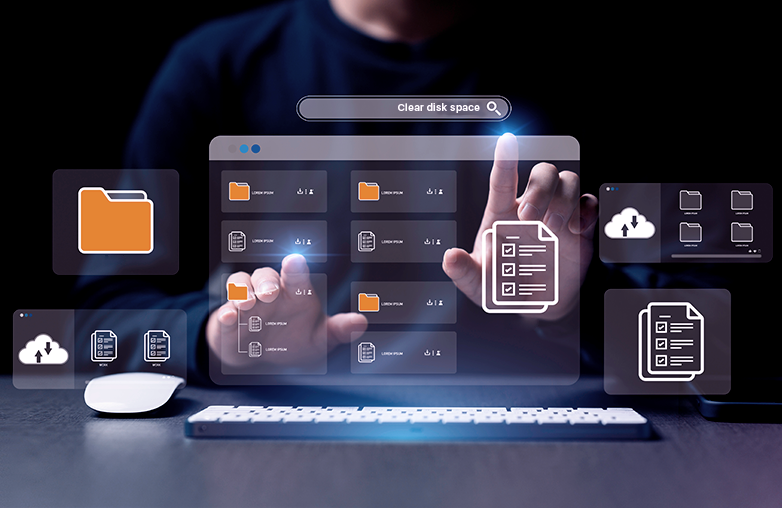 Conclusion
Now that you've learnt how to have an immersive experience while gaming on a laptop, it's time to implement it. So, fellow gamers, it's time to accomplish epic victories with riveting gameplay. 
From downloading the audio enhancing volume booster app to clearing disk space, are you ready to turn your laptop into an ultimate entertainment pack? 
Grab your headphones while munching on snacks, and let the games begin! Be ready for the victory crown waiting for you. 
Happy Gaming!